5 best devices for printing photos at home
An article reviewing the five best devices for printing photos at home: Canon Pixma MX884, Samsung CLX-3185, HP Photosmart Premium Fax C410, Epson Stylus Photo PX660 and Ricoh Aficio GX e3300N. The first 4 devices are multifunctional (printer / copier), Ricoh Aficio GX e3300N is a classic printer. For each of the devices, the main characteristics of photo printing (maximum resolution, maximum image format, print speed), as well as additional features that these devices provide.
Today, digital photography has practically replaced film, the queues in the darkroom have disappeared, and for a long time we have been showing pictures to friends not in a photo album, but on a computer or mobile phone screen. And yet, printing photographs still makes sense. At a minimum, a selection of the most successful and favorite shots will always be at your fingertips. And most importantly, you do not have to worry that your dear pictures will one day disappear if there is any failure in your computer.
In order to quickly and conveniently receive high-quality images, it is not at all necessary to contact special photo centers. To do this, it is enough to purchase one of five devices, which will be discussed below.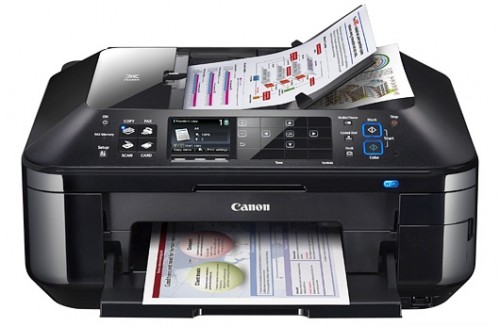 All-in-one printer Canon Pixma MX884
Canon Pixma MX884 is a solid all-in-one printer, made on the principle of "three in one": contains a printer, scanner and copier. But we will consider this device primarily from the point of view of printing photos. The Canon Pixma MX884 contains a 5-color inkjet printer that prints fairly quickly and is also ink-efficient. The cartridges can be refilled. Refueling of cartridges is carried out according to the standard scheme and does not require special skills. The quality of color photos is very high: 9600x2400dpi. The maximum image size that can be printed is A4. For printing, you can use Not only photo paper, but also material for thermal transfer to fabric. It is also quite convenient that you can send a photo for printing not only from a computer, but also from a memory card, as well as from a photo or video camera with the PictBridge function.
All-in-one printer Samsung CLX-3185
All-in-one printer HP Photosmart Premium Fax C410
HP Photosmart Premium Fax C410 is an all-in-one printer that can do everything that its brothers do, but at the same time it costs a little less and also has a good design, a multi-format card reader and a 2.4-inch color display. The HP C410 can also connect to the Network for remote printing over Ethernet and Wi-Fi. 4-color and economical printing, maximum resolution. 9600x2400dpi. The maximum picture size is A4. A standard 10 × 15 photo card can be printed in just 17 seconds.
All-in-one printer Epson Stylus Photo PX660
The Epson Stylus Photo PX660 is perhaps the best machine for printing photos. The printer is 6-color inkjet. The maximum image format is A4, the maximum resolution is 5760x1440dpi. A color photo of 10 by 15 size can be received in 12 seconds after sending to print. By the way, you can print both from the camera and from the memory card itself: Epson Stylus Photo PX660 has a built-in card reader that supports the most popular memory card formats. Also, using the device, you can print images Not only on photo paper, but also on CDs and DVDs.
Ricoh Aficio GX e3300N Printer
Ricoh Aficio GX e3300N is, unlike previous devices, a classic printer. Classic but not quite ordinary as it features Liquid Gel printing technology. What are its advantages? According to the manufacturer, Liquid Gel provides improved color rendering and more economical printing compared to inkjet. Printing is done with gel ink. They dry quickly, resist fading and smudging. The maximum resolution of a color image is 3600x1200dpi, the maximum format is A4. Standard color photo print speed is 7.5 seconds. But most importantly, the resource of the color cartridge for the Ricoh printer is 1920 pages, which is several times higher than in the above-described multifunctional devices.
We've ranked five of the best devices for quality photo printing at home. The final choice is yours. Good luck!
Was the information helpful? Share the article with your blog readers:
Choosing a printer and paper for printing in scrapbooking
I am often asked on what paper I print pictures and pages for my scrapbooking works, and what printer I use. I decided to discuss this topic in detail and give a couple of tips for choosing paper and a printer based on my experience.
Printing paper
Paper comes in different weights, textures, and if the paper is incorrectly selected and the print settings are incorrect, the printer can jam the paper. Printing colors will be dull or ink will NOT be completely absorbed into the paper and beads or streaks will remain.
Paper weight and firm manufacturers
For notebooks, cookbooks and diaries, paper with a density of 120-180 g / m2 is suitable, for photo albums with a density of 220-250 g / m2, for pictures with a density of 250-300 g / m2.
Color Copy 120-300 g / m2. very smooth and pleasant to the touch. The paper creases well. Bright and crisp prints are obtained with laser printers. When inkjet printing on some printers, the ink collects in droplets, you can see it if you look closely, the drawing is not so bright, the colors are slightly dull.
Herox Сolotech Plus. 120-160 g / m2 for notebooks, 250 g / m2 for albums, 250-300 g / m2 for pictures. Picture Prints clear, but is inferior in quality to photo paper. Droplets are also visible on some inkjet printers.
IQ Premium. for notebooks 120-180 g / m2, for albums 250 g / m2. The paper is dull and rough to the touch. Printing is crisp and vivid, but inferior to photo paper.
Matte photo paper with a density of 180-250 g / m2, the density of paper is different for each brand. I print on 230gsm Lomond, vivid colors are retained.
I also print on heavy watercolor paper. The ink is absorbed into the paper and the drawing is obtained as on matte photographic paper, only slightly dimmer. When printing on watercolor paper, be sure to check the instructions for what maximum density you can use on your printer.
Home printers
What printer to choose for a scraper for printing photos, pages, baby books, diaries and pictures?
Today, there are two leading brands for high-quality printing of photos and images at home. Canon and Epson, all others print worse.
There are pigment and water-soluble inks. If water gets in, the water-soluble ink spreads and the pigment comments.
I am printing on a Canon PIXMA iP4700, this 5 color inkjet printer. Includes 1 black pigment cartridge for text printing and 4 water-based color cartridges for printing pictures and photos. The model is old and already out of production.
After buying the printer 7-8 years ago, we converted our native cartridges into refillable cartridges and refill them through a syringe. If we DO NOT print for a long time, we have to clean the print head several times with a flushing agent and everything returns to normal.
With the right color settings and the right choice of photo paper and ink, your photos are sharp. It prints pages and pictures just as well. Automatic two-sided printing is also pleasing, no need to turn over the sheets, the printer will do everything by itself. Minus. it drains a lot of ink every time it is turned off, so it's better to print a lot at once. Today there are improved models of Canon and Epson printers, which will print better and we will consider them below.
Epson printers
Epson L805. 6-color photo printer with built-in ink tanks instead of cartridges, wireless Wi-Fi support and mobile printing.
Epson L810. 6-color photo printer with built-in ink tanks instead of cartridges, printing photos directly from media cards or cameras, without using a computer, with a large 6.9 cm screen and a touch control panel, allows you to print and edit photos.
Epson L850 is a 6-color all-in-one printer of the Epson Print Factory series, as in the first two, it has ink tanks instead of cartridges. All-in-one printer. printer, scanner and copier in one device. The all-in-one printer has the function of printing photos directly from cameras and memory cards, without using a computer, and through the LCD screen you can edit photos.
Epson L120 is the simplest printer from the Epson Print Factory series. The printer has ink tanks instead of cartridges. When refueling ink in this model, the containers are NOT detached from the body, but simply unscrew the lid and fill the ink.
Canon printers
Canon produces 4 types of printers: PIXMA TS series for photo printing at home, PIXMA G series with CISS system (printing without cartridges, instead of them continuous ink supply in large containers) is designed to print a lot and cheaply; professional large format photo printers PIXMA PRO. high quality A3 format printing with 12, 10 and 8 color ink systems, as well as 5 and 3 monochrome ink tanks for black and white photos and a series of professional A2 size photo printers. imagePROGRAF PRO-1000 with 12 ink tanks.
A few words about the PIXMA G series with CISS system. 4 ink tanks are used for printing: pigment black and Water-soluble color ink (yellow, cyan and magenta). The G1410 and G2410 are designed for high volume printing with minimal ink consumption. Improved magenta reproduction in the G3410 and G4410. Time to print black and white text is 12 seconds, and it will take up to 4 minutes to print a photo. The print quality is the same across all PIXMA G series models. This is a series of budget printers for hobbyist photography. Photo printing does not use pigment black, but water-soluble ink is mixed. For higher quality printing, it is better to use professional Canon Pro Luster photo paper, correctly adjust the colors and be sure to set high print quality in the settings. Photos will be sharper, have less grain and higher colors.
In a friend of mine, the PIXMA G series printer went to the service center a year later. I decided to ask her whether she liked the printer and whether it prints photos with high quality. She says that when the printer is rarely used, air gets into the tubes, bubbles form and needs to be cleaned at service centers or at home using a service utility. The photographs are amateurish, and of course a professional can see all the shortcomings of printing, but for an ordinary home photo is quite suitable. When the printer is set up correctly, the color rendition does not change and black remains black. She most often prints photos for December Daily and the print quality is completely satisfied with her, second only to the darkroom. Uses photo paper Lomond A4 format and 10x15cm. The ink lasts for a long time. She also recommended that printers of this series print color images at least 1 time per week. The more often you do this, the less bubbles are formed in the supply tubes from the ink tanks.
In more detail we will take a look at the PIXMA TS series for photo printing.
Canon PIXMA TS8240. all-in-one printer (printer, scanner, copier) with 6 ink cartridges. black pigment ink cartridge for printing text and 5 color for graphics and photo printing (black, cyan, magenta, yellow and blue). Blue Reduces graininess and increases detail in images.
All-in-one printer can be connected via Wi-Fi, you can print directly from mobile devices and memory cards without a computer, this will help the LCD touch screen with a diagonal of 10.8 cm.Another convenient feature is automatic two-sided printing.
Canon PIXMA TS6240. all-in-one printer (printer, scanner, copier) with 5 ink cartridges. black pigment ink cartridge for printing text and 4 color. Has all the same functions, differs from the previous model all-in-one printer. there is a cyan color for photos, print comments on discs, the output tray and the front panel are not automatically folded.
Canon PIXMA TS9140 and TS8140
All-in-one printer TS9140 with 6 separate ink cartridges (pigment black and 5 color water-soluble inks for printing vivid photos: black, cyan, magenta, yellow and photo cyan (on the official website it is called blue) for removal noise in the photo.It is possible to print and scan via Wi-Fi, from mobile devices, from memory cards and directly from Instagram, Google Drive, etc. Has a large touch screen with a diagonal of 12.6 cm The lower tray completely retracts inside and the printer becomes even more If you have a Canon camera with Wi-Fi and PictBridge support, you can print photos directly from the camera.
All-in-one printer TS8140 has 6 separate ink cartridges, prints and scans via Wi-Fi, from mobile devices, from memory cards. Has a touch screen with a diagonal of 10.8 cm. As well as in the previous one, the lower tray is removed and the printer becomes even more compact, it can print from social media. Networks and from Google Drive. It is possible to print on discs.
When printing on Canon Pro Luste professional paper in both printers, graininess is not visible in the photo. If you take any other photographic paper, the graininess is slightly visible when viewed up close, but it is practically not noticeable. Handles black-and-white photo prints with ease, color does not change, and light grain is low.
Canon PIXMA TS6140. all-in-one printer with 6 separate ink cartridges (black pigment and 5th water-soluble ink: pink, black, gray, cyan and yellow), has a 7.5 cm touchscreen, wireless connection to mobile devices. online storages, including the ability to connect via Bluetooth, prints and scans from memory cards and flash drives.
Canon PIXMA MG3640S. all-in-one printer with FINE cartridge is two cartridges, one with black pigment ink for text printing, and the other with 3 color ink tanks. All-in-one printer has automatic two-sided printing, connects via Wi-Fi. Refillable cartridges.
Canon PIXMA TS5140. all-in-one printer with FINE cartridges. included two cartridges, one black pigment and the other cartridge with 3 water-soluble ink tanks. This printer can use the Canon PRINT app to print and scan from mobile devices and via Bluetooth. Has the function of double-sided printing, printing on discs. The printer also has an LCD screen.
The article will be supplemented as information becomes available.
Thanks to all! I wish you creative success and great photos!
Choosing a photo printer for home
The idea of ​​acquiring a photo printer for the home arises in lovers of printed pictures not so rarely, even in the digital age. An overview of the models allows you to assess the scale of the offers on the market: there are inkjet options with good color printing and laser ones, with CISS and others, which allow you to get excellent results at a minimum cost. What to look for when choosing a photo printer that is ready to work at home is worth learning in more detail.
Features:
A photo printer for home, although not included in the list of basic types of office equipment, is still a rather useful device. This device is a type of printing equipment designed for special purposes. Photo printers use an expanded set of colors for more realistic reproduction of subtle nuances and midtones. In addition, the ink used itself is NOT subject to fading, it is more resistant.
When buying a home model, it is important to understand that the best choice will be an advanced printer, more like an all-in-one printer. This versatile device can produce prints on paper with different weights.
Varieties
All printers suitable for photo printing are divided into several categories according to the technology used in them. All of them are compatible with digital image formats, allowing you to get a clear and vivid image in the form of a print on paper. It is worth considering the various options in more detail.
Jet
In inkjet printing technology, the dye is passed in liquid form through special nozzles. This makes the image very bright and clear. These devices are affordable and not complicated to operate and are well suited for printing simple photographs. Inkjet models of printers are wide-format and ordinary. the latter can create images only in a certain size range, usually 10×15 cm.
Their printing speed is lower than that of other devices, so these options are not used in professional studios. For home use and a small number of prints, documents, an inkjet printer is quite suitable.
The most economical are the models on which the CISS is installed. The continuous ink supply system allows fewer cartridge changes, the volume of each reservoir is approximately 100 ml. Such an element can be either stand-alone, plug-in as an external component, or built-in. In this case, refueling will also be much easier.
Laser
The most common and affordable photo printers. Laser printing technology implies the use of a special toner for refilling. a powdery dye, which is first transferred to paper and then baked using a beam. This type of printer has many advantages. Among them are:
Long service life;
Simplicity and reliability of technology;
High quality printing;
Impression creation speed;
Low noise level.
Sublimation
A device with a system in which the ink is replaced with a special type of film is called sublimation. This type of printer is a very new product in the photo printing market. An impression on paper is formed by heating a color film at high temperatures. Dye-sublimation printers are convenient for printing images from memory cards and flash drives, but they are quite expensive compared to other models.
Manufacturers and their models
The most popular manufacturers of professional and home photo printers are well known for a long time. Among them, such market giants as Canon, HP or Epson stand out. Here's what to consider when choosing a brand.
HP. Hewlett-Packard needs no introduction. It produces devices in the middle and premium price categories, specializing in the manufacture of inkjet photo printers and compact models. The purchase of such equipment will help ensure comfortable printing at home without haste and in high quality.
Epson. Manufacturer with the widest range of photo printers. Among them there are models with CISS for color printing in economy mode and with Wi-Fi for wireless connection to PC or mobile devices. Epson launches ergonomic photo printers that are easy to use, versatile and can handle a wide variety of paper types.
Canon. One of the most renowned manufacturers in the world. Specializes in the release of the PIXMA series of photo printers with Wi-Fi and Bluetooth.
The review of the best models is also noteworthy. The top three for home use will look pretty diversified. But each of THESE photo printers is better than others to cope with their tasks.
HP Sprocket. Best of Compact
This is a portable model with a built-in Bluetooth module that supports wireless connection with user's devices. Thermal printing is carried out quite quickly, the image is high-quality and bright, resistant to fading. The HP Sprocket Mini Photo Printer prints black and white and color photographs with a maximum size of 50×76 mm. The model can hold 10 sheets of special paper at once.
Canon PIXMA G1410. the best inkjet
This model supports printing on sheets of A4 size and smaller, can handle ordinary and special photo paper. The printer produces crisp, smudge-free and color-free prints. Inside there is a reservoir for 4 containers with ink. Consumption of paint is not the lowest, but due to this, the richness of colors is achieved. Model resource reaches 6,000 pages, works almost silently, has a tray on top of the case.
HP LaserJet Pro CP1525n. Best Laser
A powerful laser printer with a compact footprint and premium print quality. The technician produces up to 8-12 sheets per minute per print, can work with different types of paper. Supports A4, A5 and non-standard formats, data can be transferred directly from smartphone or laptop.
How to choose?
When choosing a printer for printing photos at home, it is imperative to take a responsible approach to finding the optimal solution with good performance. The modern market offers both budget models with cheap consumables, and ultra-modern options that can print images directly from the camera. There are a number of fundamental selection criteria.
The type of printing mechanism. The most inexpensive consumables are in laser printers, but buying a device will have to spend a lot of money. In the long term, the investment will pay off and the speed of impression creation will be high. If the budget is initially limited, it is better to consider sublimation or inkjet devices. their capabilities will be enough to get the desired results.
Photo size. Large format models are well suited for printing portraits and landscapes, but are not very useful in everyday life. It is good if the selected printer can provide the creation of photos of the most popular formats: 9×12 and 10×15 cm.
Availability of options. Among them. document printing, support for Extended color gamut, PictBridge for printing directly from the camera, USB interface, microSD slot. The wider the range of available functions, the easier it will be to adapt the operation of the printer to different needs.
Compactness of dimensions. The smallest photo printers are dye sublimation printers. They are the preferred choice for fast, vibrant, lasting prints. the same technology used in instant cameras. But you can NOT create an A4 sheet with a document on such a device. universal inkjet and laser models are more suitable here.
How to use?
To print pictures on a photo printer, just follow the simple guidelines. First of all, you need to purchase suitable consumables: film or ink, toner cartridge. For Canon, HP, Epson photo printers it is recommended to use branded paper, other models support work with letters from different manufacturers. If necessary, the photos oriented for printing are preprocessed and edited using Special programs, filters.
The printing process in a standard device consists of several steps.
Open Control Panel in Photo Manager.
Select the "Print" tab.
Enter settings for specific photos. Here you can change the layout, determine the size of each picture, paper type, resolution (clarity). not less than 300×300 pixels for 10×15 cm format. Usually, a large set of necessary layouts is already provided in the proprietary software from the manufacturer. In compact printers, this role is played by mobile applications.
The selected options are comparable to the sheet dimensions.
Will start printing. The photo from the inkjet printer will have to dry for an additional 15-20 minutes. When using water-soluble ink, do not leave pictures in the light or in rooms with high humidity.
Following these tips, you can master all the necessary printing processes, even without the necessary knowledge and experience, already at the first use of the device.
See the following HP Sprocket Printer Overview.
Choosing a Printer for Printing Photos
Having purchased a digital camera and shot a series of pictures, you will probably want to print the photos and give them to your friends or keep them for a long memory. In the past, you needed a dark room and a lot of experience to make beautiful color or black and white prints. Today, anyone can make prints without having to deal with caustic and hazardous chemicals. All you need is a good printer.
In fact, photo printing may turn out to be the most enjoyable process for you, because you are in complete control of the result of your creative work. here is the beginning of creating a picture, processing in Photoshop and printing. Many people have the deceptive opinion that in a photo studio you will get a print much better than doing it yourself at home. This is far from the case. At home, you can refine your photo to improve clarity and contrast, and find good photo paper. The price is another matter, but all you have to pay is and today we will show you how to spend your budget on good time-tested equipment. Learn how to choose a printer for printing photos at home.
We will consider several models only from manufacturers "Epson" and "Canon". All the printers considered below have inkjet photo printing, because it is inkjet photo printing that will allow you to make vivid pictures and significantly save your budget if you purchase such a device as "CISS" (What is it, read below). Let's finally start too!
Canon printers
Canon PIXMA iP3600
For an amount ranging from 3,500 to 4,900, you will get an excellent time-tested printer, which is ideal for printing your photos up to A4 size. The iP3600 uses five separate ink tanks. This will allow you to save on ink, since if one color runs out, you only have to replace one ink tank, and this is a definite plus.
In addition, the machine supports a resolution of 9600 x 2400 dpi, which will allow you to print sharp images. One cartridge will cost you 500. 900 rubles.
Canon PIXMA iX6540
Print up to A3 size and get great prints instantly. Like the iP3600, this printer has five different ink tanks, which will save you a lot of money. As in the previous model, the print resolution reaches 9600 dpi. The cartridges will cost you 500. 700 rubles, and the price of the printer varies between 8700. 10400 rubles.
Epson printers
Epson Stylus Photo P50
One of the best (if not the best) printers in its class. Quiet, fast (1015 photo prints up to 20 seconds) and really high quality A4 photo prints will NOT leave you indifferent. As in the above devices, the Stylus Photo P50 has six separate ink tanks, which means that you only have to change the color that is over.
In addition, the printer allows you to print Not only on paper, but also easily applies ink to CDs and DVDs. Small), unrivaled colors and color reproduction of your photos, these are the advantages of the Stylus Photo P50. Cartridges will cost you 500. 600 rubles per piece.
Epson Stylus Photo 1410
Reliable and stylish, it is ideal for printing photographs at home. The print resolution reaches 5760×1440 dpi, and the presence of six cartridges will help save you money. Printing photos up to A3 will NOT make you much trouble, and the color rendition and detail of prints will pleasantly surprise you.
Like the Stylus Photo P50, it can paint CDs and DVDs. Per piece.
Expenses
Now that we've covered a few models, let's think about the cost of all the photos that you can print. One cartridge is enough for about 40.70 photos. The set includes 5 cartridges and one set will cost you about 2700. 3500 rubles! Add to this the cost of paper. The costs are very high. That is why we recommend that you purchase a CFS.
Profitable photo printing at home
CISS is a continuous ink supply system that will greatly save your money and time. We will not talk in detail about the CISS, but will only talk about the cost of the installation and tell about its purpose. You can see an example of CISS in the image below:
Believe me, thanks to CISS, you can save 10 times on printing photos.. Which is quite a bit. All you have to do is buy ink, and the quality is NOT inferior to the original manufacturers. You can find a whole set of ink for only 1000 rubles, and the cost of a print will be 1.5 rubles.
Not so long ago, Epson introduced to the market a series of printers "L" where CISS is already built into the printer itself. For example Epson L800, alternative to Stylus Photo P50. For 8000. 9000 rubles you will receive a ready-made solution. But the cost of photography will rise again, since the price for a 70 ml bottle of ink will be no less, about 500 rubles. In addition, many complain that this ink is far from the best quality.
Now it's up to you to decide. Invest a large enough amount in a printer, CISS, good ink, paper and enjoy the process of printing great photos, which will soon pay off or purchase a printer and buy expensive cartridges, but even this will NOT prevent you from purchasing CISS at any time.
Subscribe to the site's newsletter and wait for new lessons, as in the near future we will learn how to correctly print photos with you through Photoshop.
How to print to a printer? Photo printer
In everyday life, it is very difficult to do without a personal computer. It provides the user with a wide range of options that make it easier to work in an office or enterprise. And this often requires a printer. This is especially true for those who are professionally engaged in photography or other printing products. Based on this, the question arises: "How to print on a printer, does not spend a lot of time on this procedure?"
What is document preview?
It should be noted that you can print a particular document in one or more text programs (although some models of printers offer direct printing, i.E. Without software intervention). After the completion of the process, it becomes necessary to print the result obtained. To see how the work done will look like on paper, you need to use the image preview function.
It is useful for those who do not work in the usual document format, but, say, in the mode of WEB pages. Image preview will allow you to make significant changes to its structure, which directly affects print quality.
This mode is activated (in MS Office) by opening the "Print" tab in the main menu. Next in the list is the Preview command. In this mode, you can change the format of the text, its scale, and it also becomes possible to structure the text on the page. Thus, the initial print setup of the printer is necessary for the compact layout of the image on paper. This is especially true for photo editors and those who specialize in digital printing (for example, large corporations or firms).
How to print a document in MS Word?
This text editor is considered the most popular among PC users. It allows you to print out any graphic image without unnecessary effort and the necessary knowledge, we will first perform the simplest manipulations with it. Upon completion of the work, you must open the main menu (the circle in the upper left corner with squares). Select "Print" there. Then the print menu will open.
It is important to note: if you need to Get a picture, then color printing on the printer will be possible only in cases when the Corresponding toner cartridge is installed. It can be powder (laser printing) or a special chemical composition (inkjet printing).
In the print menu, you can specify specific items: the number of pages (if there are more than one), the number of copies of one document, etc. All these parameters are changed at the request of the user and are necessary to obtain a high-quality image at the output.
It should also be noted that odd and even pages (in the specified range) can be printed. This function allows you to get images from a large document (for example, 100 pages). In general, a competent printer print setup will allow you to receive material media with a photograph, diagram or other image in the shortest possible time.
Printing digital (color) photos on a printer
In most cases, the printer is used as equipment for printing text, but it is often used for the purpose of obtaining photographs or color images. Then you can do without Special graphic editors (if you do not need to make changes to the structure of the photo). If the images are on removable media (camera, flesh card), then connect it to the computer.
After that, you need to select the necessary objects and transfer them to the PC memory. To do this, in the menu that opens, select the command "open folder to view files". Use the mouse to highlight the required number of files. Using the "print" key on the keyboard (in Windows 7 this is the CtrlP combination), you need to call the menu for editing the parameters of the selected images. There you can set the number of copies to print, their format, scale and size.
Among the adjustable parameters are the font size, the arrangement of words across the width or length of the page, the angle of inclination and other items. Their competent use will increase the quality of the printed photo and increase its brightness and saturation. The printer model also plays an important role in this process. Before printing, it is recommended that you purchase the optimal equipment that works with at least Multiple Print Image Sizes.
How to print photos without a PC?
At the moment, there are many types of digital equipment: smartphones, tablets, network adapters. With their help, you can print without using a PC. For example, Windows Phone-based phones do not have direct printing capabilities. However, there is equipment that allows you to print a picture, and not using a personal computer. For example, a Brother direct printer communicates with Windows Phone smartphones: the phone connects to the local network of printing equipment and exchanges data. Simply put, the smartphone acts as a network printer.
Another way to print without a personal computer is to use the Google digital cloud. In this case, the required information is located on the Google server. If there is a need to print it, it is sent to a mailbox and issued through a network printer using the KumoPrint or PrintCloud programs. In general, answering the question of how to print to a printer without a personal computer, it should be noted that information technology has reached the level where a traditional PC can be easily replaced with modern gadgets.
Setting up a network printer how to print material from multiple computers?
Using network equipment is the oldest and at the same time the most effective way of organizing local printing when you have several computers. In this case, the printer will function as a receiver of information coming from machines of the same local network. To organize such a system, several conditions must be met:
You must have at least one photo printer. It joins the network and is active only when the computer is in a power-on state.
Several PCs. They connect to each other using a USB cable or by organizing a local network using a broadband Internet connection.
To create a network printer you need to go to the "Control Panel" of your computer and find the "Printers" category. Then select "Add Printer" from the menu. Several options will be offered. You should select "Add a local printer". After the system needs drivers. If they are on the installation disc, which came with the printer, then you should activate the "Have Disk" command. Otherwise, for example, when the drivers are downloaded from the Internet, you should specify the path that contains the necessary settings.
In such a simple and effective way, color printing on a printer connected to a local network can be organized. In this case, there is a need to purchase additional equipment for each PC. It is enough to purchase a network cable and connect the computers correctly.
Keys for printing on a printer: classification
To simplify the operation of the printer, you can use quick input commands. They save time and perform difficult and massive operations in seconds. All commands can be conventionally divided into 2 categories:
What is used in text editors. The largest group where the keyboard shortcut can be applied. Printing in this case is the selection of the desired fragment of text or image (CTRLC), followed by its insertion into a text or graphics editor (CTRLV) and output to paper. If you need to find a specific fragment in a large document, you can select it (CTRLA) and perform a keyword search (CTRLF). Then put the Found text into print mode.
What is used in browsers and web pages. This is a narrow category, which is represented by abbreviations used in the process of working on a PC. So, the photo or image you like on the site can be "screened". saved to the computer clipboard (Prt Scr). Then it can be transferred to any graphics editor (CTRLV key combination). The CTRLP command is used to print all the information on the page. It will immediately open the print menu, where you can make the necessary settings for the parameters of the output image.
Thus, the competent use of "hot" keys will save time for searching, processing and printing images.
Ways to print digital photos
Depending on the desired result, there are several ways to display color photographs. The most popular is inkjet printing at home. The advantages of this method include: data confidentiality (no one will see your photo), efficiency (a home printer is always at hand) and ease of use. However, there are a number of disadvantages.
Among them is the high cost of photography. This is due to the fact that in order to print you will need to purchase high quality photo paper, ink and consumables for the printer in advance. In addition, you should pay attention to the model of the printing equipment. Most home printers print small-format, low-resolution photos.
Another option is to print in a darkroom. As a rule, they use high-quality equipment with different photo resolutions. Simply put, the highest quality and brightest photos are obtained in the laboratory. In addition, the cost of production will be an order of magnitude lower than when working on a typical home printer. Thus, answering the question "how to print on a printer", Note that each of the options considered has both pros and cons. As for the home device, it is usually used by those who do not want to share confidential information presented in the photo. With a responsible approach to organizing the workplace (choosing a printer, photo paper, lighting and screen calibration), you can get the best result without resorting to the services of professional darkroom.
Computer screen calibration features
In most cases, those looking to set up their own darkroom can face production issues. It is about the color of an image on paper. Simply put, the photo looks bright and saturated on the screen, but when printed it turns out dull and inconspicuous. The main cause of this problem is the discrepancy between the settings of the screen and the printer.
When answering the question "how to print on a printer", it should be borne in mind that most screens have ultra-sensitive color gamut settings (especially LCD models). These parameters may not coincide with the operation of digital equipment. To do this, you need to calibrate the screen image.
No additional tools and accessories are required. Adobe Gamma printer software is perfect. Calibration should be done in a bright room. However, beams must not be allowed to hit the PC screen directly. The software method has its advantages: high-precision adjustment of the color gamut of the photo by optimizing the settings of the available palette.
How to choose the right photo paper?
The choice of photo paper is an individual process. Definitely say what kind of paper. Glossy or matte. Better for a certain type of photograph, not possible. Someone likes shine more, someone. Texture and lack of excessive brightness. When choosing paper, you should pay attention to a printer for printing photos. Some models only work with certain types and sizes of sheets.
In any case, it makes sense to experiment with different types of photographic paper. The same applies to manufacturers (not always Kodak film or paper has advantages over products of other companies). In general, when answering the question of how to print on a printer, it should be noted that not only the brightness of the photo, but also the impression of viewing it depends on the quality of the paper. If possible, do not cost to save on this material.
Summing up, we note that digital equipment (such as a printer, scanner, smartphones, tablets) has become a part of human everyday life. The use of well-known for working with these types of technology allows you to save money, which would go to pay for the services of computer masters and specialized laboratories.
As for digital printing, it is enough to have an idea of ​​the mechanism of operation of such equipment in order to easily obtain colorful images at home. To make the work easier, it is enough to know some tricks, for example, such as a key combination. In this case, printing will happen quickly enough and without unnecessary nerves.
The knowledge of organizing a local network and creating a network printer also plays an important role. This is especially true in large corporate companies specializing in printing products. A network printer can act as a converter of information coming simultaneously from several personal computers. In this case, digital printing will require minimal costs (it makes no sense to buy additional equipment). Knowledge of what a "hot" key is NOT superfluous. Printing with the introduction of quick commands will accelerate significantly.
When choosing photo paper, preference should be given to the type that, in your opinion, best emphasizes the brightness and contrast of the photo. There are no clear criteria for choosing a suitable option. Only through personal experimentation can you get the perfect digital photo. After a few unsuccessful attempts, you will certainly achieve what you want. And save money, because you will NOT have to use the services of a printing worker in the future.
How to print quality photos at home: tips and tricks
It would seem that the development of film and photo printing have long since receded into eternity with the advent of digital cameras. However, how sometimes it is pleasant to hold a photograph in your hands and immerse yourself in the memories associated with it.
In order to get quality pictures, you do not need to look for a photo studio and pays big money for printing a photo. It is enough to have a good printer at home and know a few secrets of how to print high-quality pictures at home.
Rules for printing high-quality photos at home
Let's start with some simple rules for printing photographs at home. In order for the pictures to be of high quality and be hard to distinguish from those that are printed in professional photo studios, you need:
Save your pictures in.Tiff format, although this will increase the "weight" of the file. Most likely, you will do this manually, since in most cameras the.Jpeg format is the default. And when compressing the file, it greatly degrades the image quality.
Take your photos in high resolution. for printing it is advisable to use a resolution NOT lower than 300 dpi (this applies to printing in 10×15 format, others require a higher resolution).
A very important detail is photographic paper. Be sure to pay attention to what kind of paper the printer manufacturer recommends. Before printing, select the paper type, that is, in the printer settings you need to select the type that you loaded into the tray.
DO NOT save on paper by buying a cheap product from an unknown manufacturer. You need to buy only the best quality photo paper. Then you will get a photograph that will be difficult to distinguish from the same one printed in a laboratory or studio.
Feel free to experiment. try printing on different paper. After all, the visual effect of gloss and matte paper can be diametrically different.
Choosing a printer for printing photos at home
Canon printers have proven themselves well in the market. In addition to high-quality printing of regular black and white text, the device provides high-quality photo printing.
In addition, Canon printers have a special technology. ChromaLife 100. The company's engineers have managed to achieve the optimal combination of the quality of branded paper, ink and a unique print head made using FINE technology and with an extremely small nozzle diameter of 0.009 millimeters.
This solution allows you to get the highest quality printing, including small parts. Such a photo will be bright and saturated. By the way, the number "100" in the title means "one hundred years". If stored in a cool dry place in a photo album, such photos will retain their color and high quality for more than a hundred years.
over, Canon printers will be able to print 2000 high quality color photos. This figure is really amazing, because, Note, you can do all this right at home.
Drying out ink and how to prevent it
If you are still worried that if you often use your printer, it is corny to dry ink in it, then we advise you to forget about THESE Thoughts. After all, there are already many printers with CISS on the market, and Canon is considered one of the leading manufacturers of such devices.
If you use original paper and ink to print your photos, there will be no problem. A photo printed using original consumables comes out completely dry already during printing.
Therefore, if you want to get quality pictures at home. Canon printers are exactly what you need. Thanks to high-quality materials, advanced technologies and high reliability, the devices of this company will leave only positive impressions after using them.
Home Photo Printer
How, what on what and with what to print photos.
When choosing a printer for printing photos at home, users often look not only at the price of the device itself, but also at the price of consumables: cartridges, ink bottle and photo paper. It's no secret that the price for compatible consumables from third-party manufacturers is lower than for original ones. The lower price will undoubtedly force many users to pay attention to this product.
Someone can use only materials recommended by the printer manufacturer for printing, but then their choice will be limited only to the products of this brand (or have you seen the manufacturer recommend other materials? :).
For those who decide to use non-original consumables, I would venture to give some advice and share my own experience.
First of all, you need to decide on the manufacturer of compatible materials. Obviously, it makes no sense to combine different components of different brands when printing. I don't think you can achieve excellent print quality by using different companies' paper, ink and color profiles. Some of the manufacturers not only produce compatible consumables, but also support their products. On the website of such a manufacturer, you can find the necessary information on the use of a particular product, recommendations and comments.
To achieve the best result, it is necessary that the correct color profile is installed in the system. This profile can most often be downloaded from the website of the paper and ink manufacturer. This profile must be selected for:
YOUR printer,
EXACTLY the paper you bought,
Printing EXACTLY THEME ink that is installed in your printer.
Therefore, you should first take a closer look at the brands of consumables offered on the market and try to find the most acceptable option, both in terms of price and in terms of the quality of product support.
Color profiles are very easy to install into the system, the manufacturer usually provides them with comments and installation instructions.
In addition to the print media and the printer itself, there is another component. Photo printing software that comes with the printer. Experience in printing with this program suggests that the printer manufacturer sets up this program ONLY to use original consumables.
The problem is solved simply: you NEED a PROGRAM to print photos from a third-party manufacturer, which will print "without regard" to the originality of materials.
Personal experience of printing on a printer with a stationary print head and a separate ink tank shows that after replacing ANY ink tank, it is advisable to give the printer some time to "rest", after which you can continue printing. When replacing the ink tank, air may enter the system and, as a result, temporary deterioration in print quality. Spent a little time and money on choosing a worthy replacement for original consumables and software products, you can achieve excellent results when printing, which will be your reward for your efforts. Good luck to you!
Valery November
If you have any questions, suggestions or personal experience on the issue of printing photos at home, write to us on the forum!
Canon PIXMA iP7240, MG5440 and MG6340 Home Printers
Canon has launched three new premium printers, the PIXMA MG6340, PIXMA MG5440 and PIXMA iP7240. All three new PIXMA products are designed for home use. For easy switching between printing documents and photos, the model is equipped with two trays, which makes it possible to simultaneously load paper of different sizes. The Auto Power Off feature enables the printer to turn off when there is no operation for a specified period of time. And when you send a print job, the printer automatically turns on.
Using a Wi-Fi network, you can access printers from multiple personal computers, smartphones, and tablets at home. MG5440 and MG6340 Models Equipped with PIXMA Cloud Link for access to Google Cloud Print service. Thus, the user can quickly print Google documents or Gmail email attachments (in JPEG or PDF format) from any laptop, smartphone or tablet PC. PIXMA Cloud Link provides direct access to useful web templates (such as calendars) and photo albums.
The new printers support direct printing from compatible cameras and camcorders. If your camera is PictBridge compliant, you can connect it directly to the same Wi-Fi router as the printer and print photos directly. Canon's new My Image Garden software, included as standard on all three printers, provides access to an update to the CREATIVE PARK PREMIUM service. Canon's new Print Your Days app allows you to process and print photos on Canon PIXMA printers directly from the site. NOT using additional software.
The PIXMA iP7240 is Canon's first inkjet printer to offer Wi-Fi connectivity. This high-performance printer is capable of printing 15 sheets per minute in black and white and 10 sheets per minute in color. The device has a five-color printing system. Other principal features of the model include the ability to print directly from tablet PCs and smartphones, the presence of two front paper cassettes, automatic on and off, the function of direct printing to discs, and the function of automatic two-sided printing.
The PIXMA MG5440 is a modern multifunctional photo printer with a 7.5 cm TFT screen and a five-color printing system. The PIXMA MG5440 prints documents at 10 pages per minute in color and 15 pages per minute in black and white. Supports the use of SEPARATE XL high capacity ink tank. Features such as automatic duplex printing, two front paper cassettes, low body are mentioned.
The PIXMA MG6340 premium multifunction photo printer is designed for hobbyists looking for high quality prints. The printer is equipped with a six-color system that includes gray ink for high-quality grayscale printing. The 8.8 cm TFT touchscreen is equipped with Canon Intelligent Touch Control. Print speed is 10 sheets per minute for color images and 15 sheets per minute for black and white. Supports automatic two-sided printing, Wi-Fi, Ethernet connection, direct printing to discs.
All new models of PIXMA printers will enter the Russian market in November 2012.